Why Beltone?
Beltone is a safe haven for independent hearing care professionals needing to be part of something bigger to remain competitive. Our primary goal is to support your success by offering you every business advantage. From the moment you join our team, we provide guidance and insight to ensure your success.
Business Management Tools
Here are just a few of the tools Beltone Network owners use and recommend:
Beltone Elevate Program | A comprehensive practice management and marketing program that is based on data, past performance, and practice goals. Work with your dedicated team to achieve and optimize business efficiency.
Shared Services | A comprehensive program designed to provide valued resources to the Beltone Network. Enjoy partnerships and discounts on office supplies, office furniture, hearing healthcare clinical supplies and equipment, hearing healthcare diagnostics/calibration, in-office patient engagement, hearing impaired patient services and more! Harness the size and buying power of Beltone to maximize discounts and reduce your costs.
Managed Care | It is common for health care plan to choose to offer reimbursement on hearing aids. Beltone works with many Managed Care, Hearing Benefit Manager programs and Discount plans. We can help you incorporate managed care into your business to represent an opportunity for you to participate in your patients hearing health journey.
Sycle Pro | A web-based Practice Management system customized for Beltone Network. Automate operations and optimize patient care. Work with a dedicated team to help you achieve goals toward business efficiency and revenue growth.
Marketing and Lead Generation
As a Beltone owner, you'll have access to marketing strategies and tools designed specifically for the hearing healthcare industry.
Owner Marketing Co-Op Program | Utilize our size and strength as a network to provide valuable marketing services and technologies at a lower cost.
Patient Review Automation via Podium | Online reviews position your business higher in a potential patient's local online search results and improves the chances of your business being found and selected. Improve your ratings, build your reputation, and get found online.
Online Hearing Test | Generate leads to your practice via online hearing test. Co-op participants can place online hearing test on any of your websites. Leads are directed via API from your website to either your call center or through the Beltone call center.
Online Scheduling | Patients can schedule appointments online, even when your practice is closed. Patients also receive appointment reminders via text or email, reducing missed appointments. Reminders are sent to patient at time of scheduling, as confirmation, with their contact info and also 24 hours in advance of appointment and 24 hours after a missed appointment, asking to reschedule.
Beltone Great Start | Significantly reduce return rates with Beltone's onboarding program. Six sessions that help patients adjust to their new hearing aids and learn how to use and maintain them.
Beltone Restore | Acquire new leads offering Beltone Restore all-make repair services to non-Beltone patients in your territory.
Financial and Owner Network Support
We offer a wide range of financial support options, including:
Owner Financing | Your vision and goals are key drivers to your success. If we can support your plans with financing, we will make every effort to make it happen.
Business Practice Fund | The Beltone Practice Fund is a flexible reimbursement account designed to help offset local practice costs such as advertising, testing equipment, computer hardware and software, hearing aid programming equipment, and other practice enhancing expenses. Through this program, we will allocate a percentage of purchases from select Beltone products into a Business Practice Fund for you.
Retirement Advantage Plan | The Beltone Retirement Advantage Plan is a program designed to give Beltone practice owners a unique opportunity to invest in their future. The program helps you save for retirement through a quarterly contribution. Should you choose to participate, Beltone will allocate a percentage of purchases from select Beltone products to your Retirement Advantage Plan.
Recruitment | Assistance and resources to recruit for Hearing Care Providers and Patient Care Coordinators in your market.
Training, Education, and Support
From onboarding to continuing education for advanced level hearing care practitioners, Beltone University has it all.
Beltone University Learning Management System | A premier system developed to help you in growing your business and developing you and your staff. You will learn all the essentials with supported learning from a catalog of over 275 courses.
Live Training Webinars | Beltone partners with Audiology Online to offer live training webinars on a variety of different hearing health care topics. Many of these webinars are also offered for Continuing Education Units (CEUs).
New Employee Onboarding | Beltone offers complete Onboarding Training Pathways for new Patient Care Coordinators (PCCs) and Hearing Care Practitioners (HCPs). These pathways offer a combination of online and in-person learning to get new employees up to speed on all things Beltone.
License Prep Program | For new Beltone HCPs that are working toward getting licensed we offer a License Prep Pathway that combines online courses and in-person instruction to help prepare for licensing examinations.
Advanced Level Training Seminars | Advanced level trainings designed for experienced HCPs. We provide live training that gives HCPs the chance to learn and experience the latest Beltone technology and sharing of best practices.
Customized Online and Onsite Trainings | The Beltone Training Team will work with you to customize training sessions designed to meet the specific needs of your individual office or staff member.
Innovative Technology
Beltone Advanced Hearing Solutions | A complete family of premium hearing instruments with design and technology options for all patients regardless of lifestyle or budget.
Beltone Direct Line Wireless Accessories | Beltone's wide range of wireless accessories using 2.4 GHz technology give patients even more ways to stay connected to all their favorite entertainment and communication technologies. Users can easily stream sound directly into their Beltone hearing aids for a premium sound experience.
Direct Audio Streaming | Available for both iOS and Android devices for a clear and concise hearing experience.
Beltone Remote Care | Remote fine-tuning options and software updates to give patients the best possible listening experience and convenient support from anywhere.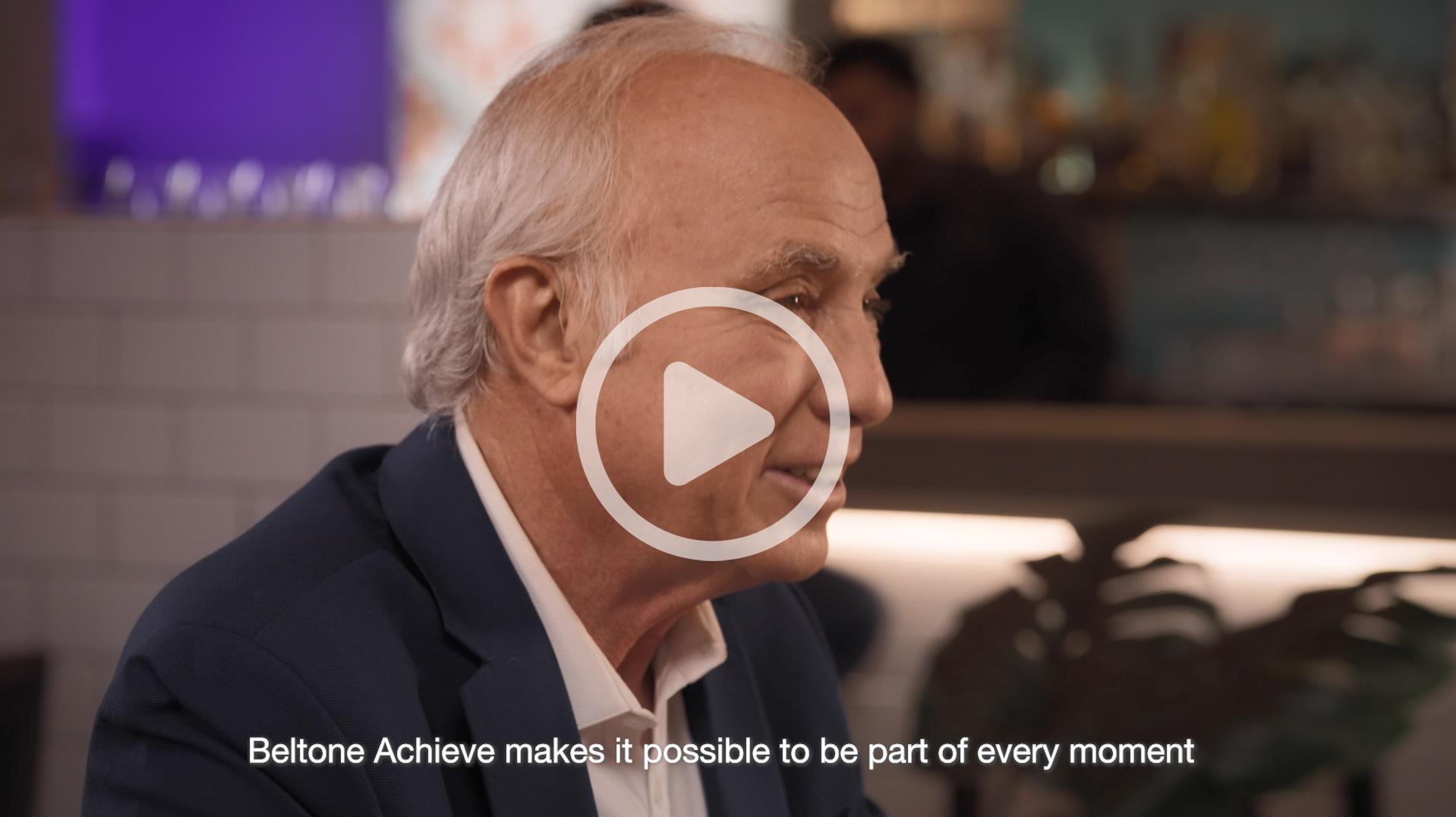 Beltone Brand Power
We Are Owner-Centric
We work with you on a territory, regional, and corporate level. At the center of our business model is the Beltone owner, an individual who chooses to build a future by improving people's lives. Owners are truly the key to our success.
1,500 Locations
Over 80 Years of Service
We Are Trusted
The Beltone brand is one of your greatest business assets. You can count on our brand-building efforts to drive customers to your store. We invest millions of dollars in advertising annually, like national TV and digital campaigns, to keep the Beltone brand top of mind.
A Top Trusted Brand and
98.1% Satisfaction
The Ability to Corner
Your Market
As a Beltone owner, you will benefit from geographic territories and zip code level exclusivity, making you the only Beltone dealer in your geographic area.