Becoming an
Owner
You are that all-important link to our patients. That makes supporting you our number one priority — a responsibility we don't take lightly.
Is Beltone Ownership the Right Fit for You?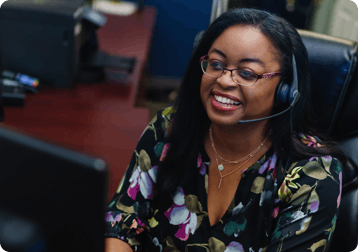 Passionate About Our Business
If you like the idea of succeeding with and through other like-minded professionals, you belong with us.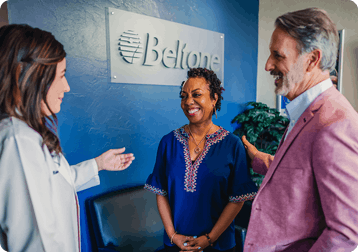 Enjoy Working With the Public
Beltone owners experience success when they connect well with the ordinary people who walk into their offices every day.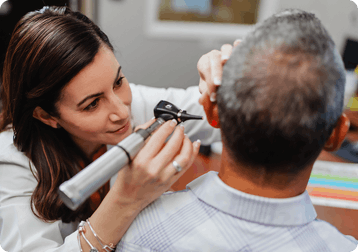 Committed to Best Practices
By putting quality patient care first, we take care of the people who need our help while elevating the strength of the Beltone brand.
Estimated
Startup Costs
A typical Beltone office is 800 to 1,200 square feet. While we estimate the initial investment required for opening a new, full-time Beltone location to be between $110,000 to $250,000 (covering leasehold improvements, fixtures, furniture and equipment, inventory, training, licenses and initial working capital), each situation is unique and investment requirements and risk factors must be evaluated by the prospective owner for a given territory. Funds for those opening their first office typically come from owner equity and financing provided by Beltone and third-party lending institutions.
Here is a breakdown of approximate low and high range of what you can expect to invest.
Start-Up Costs
Low
High
Total Investment
$107,050
$244,800
Leasehold Improvements
$7,500
$55,000
Office Equipment
(Including furniture, fixtures and professional equipment)
$35,000
$45,000
Inventory
$5,000
$20,000
Point of Sale System
$2,500
$5,000
Working Capital - Three months
$15,000
$35,000
Advertising Expenses – Three months
$21,000
$36,000
Grand Opening Expenses
$5,000
$7,500
Signage
$1,200
$6,500
Pre-opening Expenses
$14,850
$34,800
We have relied on our experience in this industry in compiling these estimates. For demonstration purposes only. Investment will vary by office and geographic region. Pre-opening expenses include estimates for security and utility deposits; three months base rent; business licenses and professional fees; general business insurance; and travel costs for training. You should review these figures carefully with a business advisor and accountant prior to making your own final determination of becoming a Beltone dispenser.
Candidate Requirements
Net Worth:
$150,000 minimum
Liquidity:
$50,000 minimum
Credit Score:
650 and above
Follow the Beltone Business Model:
Willingness to learn and accept new programs and ideas.
Strong People Skills:
Know how to recruit and develop the right people.
Compassionate:
We seek owners that share our passion and commitment to providing the best hearing care service to our patients.
Financial Acumen:
Have the ability to make good judgments and quick decisions based on financial data.
Strong Work Ethic:
Honesty, integrity, goal oriented, and can-do attitude.
Engaged in the Business:
Must be willing to be actively engaged in the business or have a qualified, licensed operating partner that is involved in the daily activities of the business.

Each U.S. state and Canadian province has different rules and regulations regarding licensing. To learn more about licensing requirements in your state, please visit https://www.ihsinfo.org.
The Qualification Process
NDA

Execute nondisclosure agreement.

Assessment

Complete online candidate assessment.

Profile

Complete candidate profile, personal financial statement, and credit release authorization forms.

Business Plan

Develop and submit a business plan.

Discovery Day

Attend Discovery Day at Beltone in Glenview, Illinois.

Approval

Receive committee approval.